Cars can provide valuable information to the winter maintenance industry
Grip, wiper speed or road status - and introduction to FCD
The automotive industry can provide different types of data sets valuable for the winter maintenance industry. In general for the winter maintenance industry in Europe, Grip (or friction) is the most used method for follow up on performed actions. Using the anti-spin and ABS traction control sensors - the cars can calculate and estimate the average friction value in My and give an overall view if the maintenance event fulfill the quality aspects defined by the customer. The data can also be used to find locations where lack of grip is more common compared to surrounding areas.
Road Status Information is a MDSS (Maintenance Decision Support Software) that support the winter maintenance industry with hyper local road weather forecasts. The vision with the RSI software has from the beginning 2013 been to support the transformation within the industry with a high focus on automatization, route optimization and adaptive salting.
In the RSI MDSS is all available data are already integrated in the solution. Today we can offer Floating Car Data from a number of suppliers depending on which data is most relevant to our customers.
Grip estimation (Friction), calculated from regular vehicles
is used for follow up and evaluation of actions.
Grip measurement, made by i.e. NiR-lasers or AHEAD - technology is used for
Adaptive salting and also as an input to road weather model and forecast.
---
1. Road Weather Forecast - preparation for snow fighting
The picture above illustrates a heavy weather event in Sweden the past winter. Icy roads that will be affected by snow the upcoming 12-14 hours. Actions are needed over several hours to fight the icy and snowy roads.
2. Collection of production data - with new treatment action forecast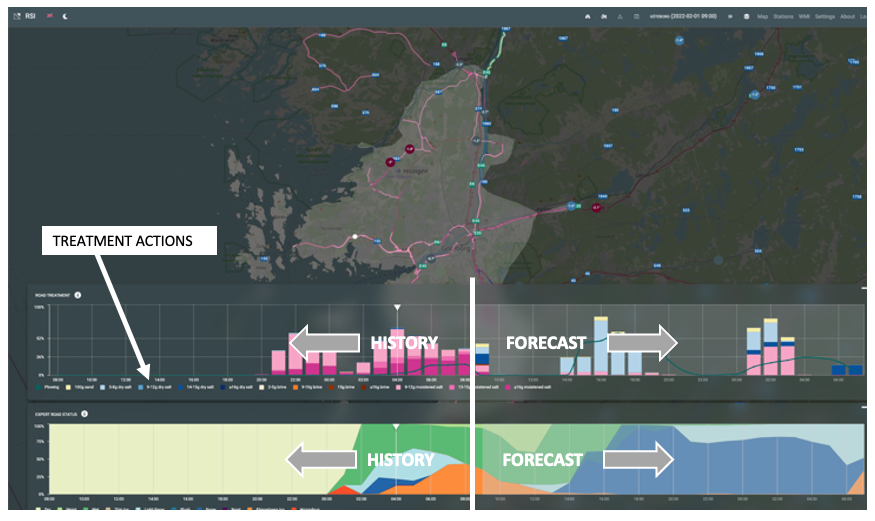 The picture above shows production data from contractor. The historical production to the left - and upcoming preventive actions to the right based on performed actions combined with how the weather evolves over time.
3. Grip - measurement and evaluation of activities with NiR - Lasers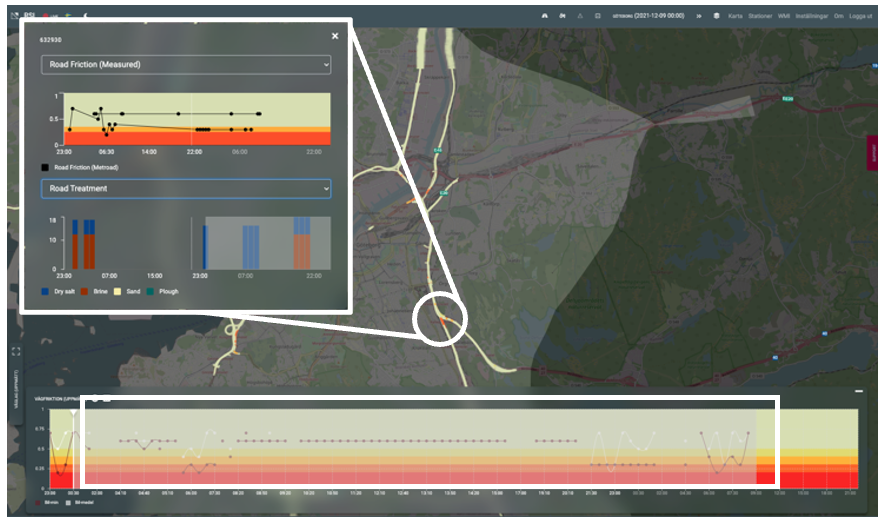 The picture above shows Floating Car Data - collected by NiR-lasers or Klimator AHEAD technology. Yellow is grip above 0,5 My, Orangea is grip above 0,35 My and Red is grip under 0,25 My. The contractor handled the situation almost perfectly - the road map is almost in the yellow area. There are some minor segments that measures friction below 0,35 My, and in the box up to the left - the contractor can use different input sources. In this case - grip measurement with latest treatment action on the actual segment.
4. Grip - Calculation and evaluation of activities by cars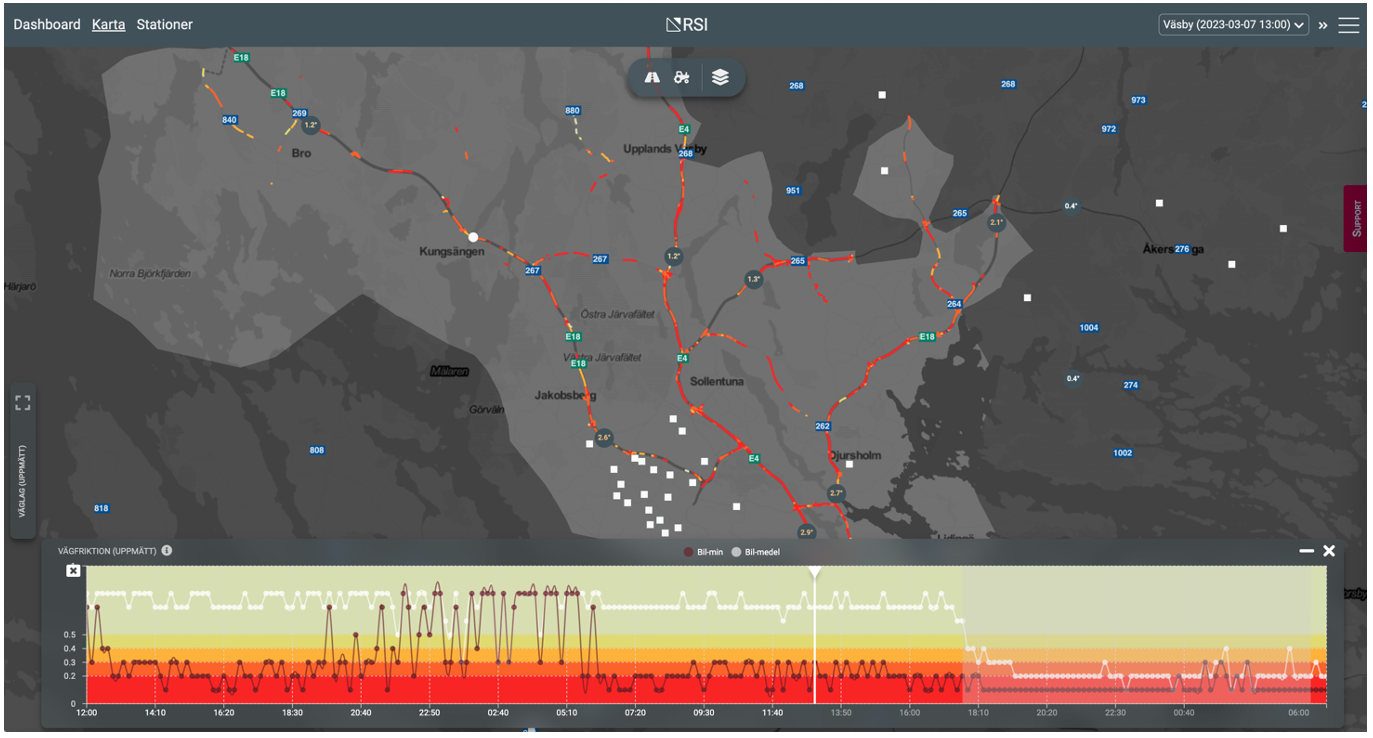 The picture above shows Floating Car Data - collected by Volvo. Yellow is grip above 0,5 My, Orangea is grip above 0,35 My and Red is grip under 0,25 My. The example comes from an ongoing heavy snow fall, and the collected data represent the past 12 hours.